(Disclaimer: He's not dead, he's just moved)
This year we've said goodbye to one of the longest serving members of the Wild Weather team, who in their final act at the brewery, has helped crank out one final beer. This limited edition is one we have been chatting together about making for some time.
Chris was actually the very first brew team member hired by Mike back in 2014, and has been an ever-present and reliable fixture of the brewhouse and the events team ever since. Travelling the length and breadth of the country representing Wild Weather at numerous tap takeovers, collaborations and festivals, he has been since day one, a relentlessly industrious worker and advocate of the brand; often carrying the weight of the hard labour on his shoulders when the going gets tough.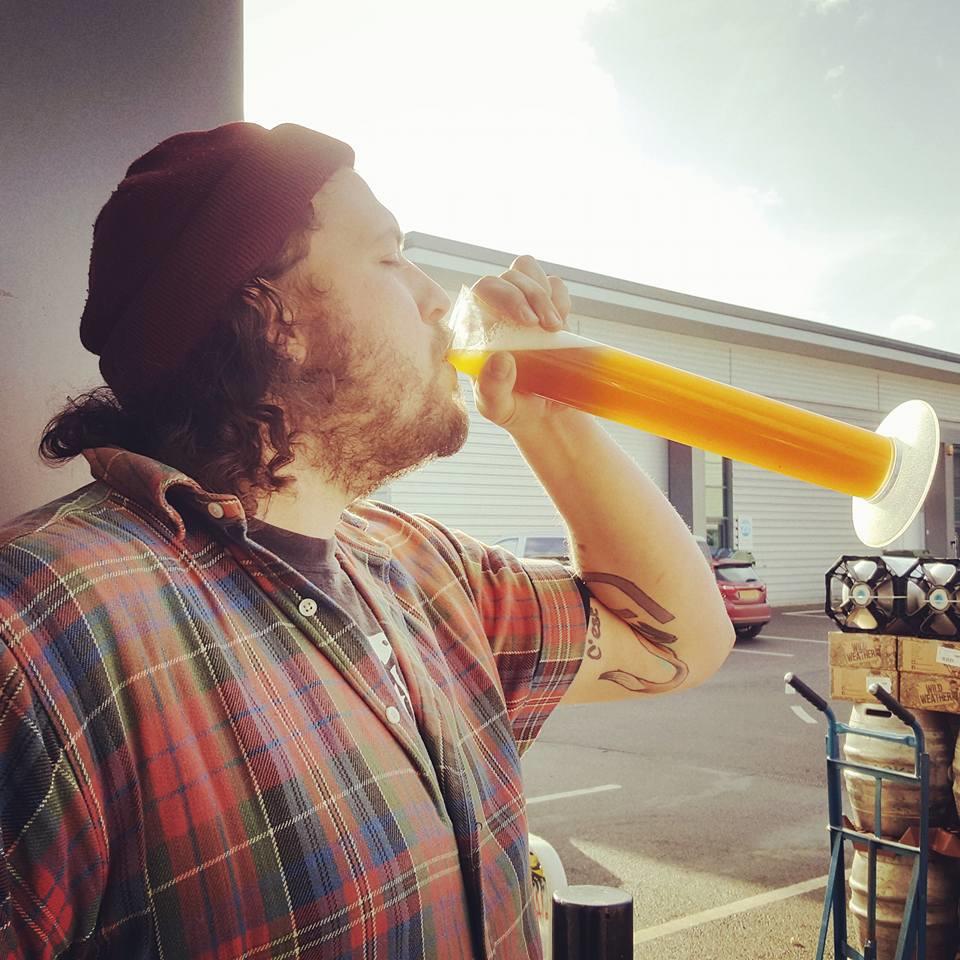 His contribution to Wild Weather can be found in a staggering 550 gyles of beer (!), stretching back to when there were only 6 regular beers in production. I'm not going to lie, Chris' departure has left a sizeable hole in the Wild Weather psyche, and we won't ever really be able to replace him. It is a testament to the strength of our friendships and our commitment to the brewery that Chris is the only full time employee of the brewery to have ever left… since the very start.
I've had the pleasure of working alongside him for nearly 4 years now, and between us we have put together his final gyle (602) – a dry, but fruit packed and lightly spicy pear saison, reminiscent of white wine grape juice. It's been a long time in the making. Those of you who know Chris personally will have said your goodbyes some months ago; but these kinds of beers take patient and careful shepherding.
The beauty of the style is that owing to its wide interpretation as a 'farmhouse ale', no two saisons are alike. They do however, all share one thing in common – an initially aggressive and ester-driven fermentation that gives way to a slow, determined creep; edging unflinchingly closer and closer to 1.000SG (the same density as water).
Take your eye off the ball, and you may be fooled into thinking the beer is done, and that it can be safely packaged. Leave it another week or two, and you'd be mistaken as bottle caps come flying off of their own accord. There are many that say that these types of diastaticus yeasts never really stop working; they just slow down. One can see why many brewers run around with wooden crosses and strings of garlic when they suspect a saison yeast might have escaped its tomb… Any unsuspecting pale ale in a neighbouring open vessel wouldn't stand a chance.
Adding fruit, although a fairly common thing to do in this style, sentences the beer to often at least another month in captivity. The extra sugar, both simple and complex, gradually gets metabolised by an already lethargic but persistent yeast population over the course the month.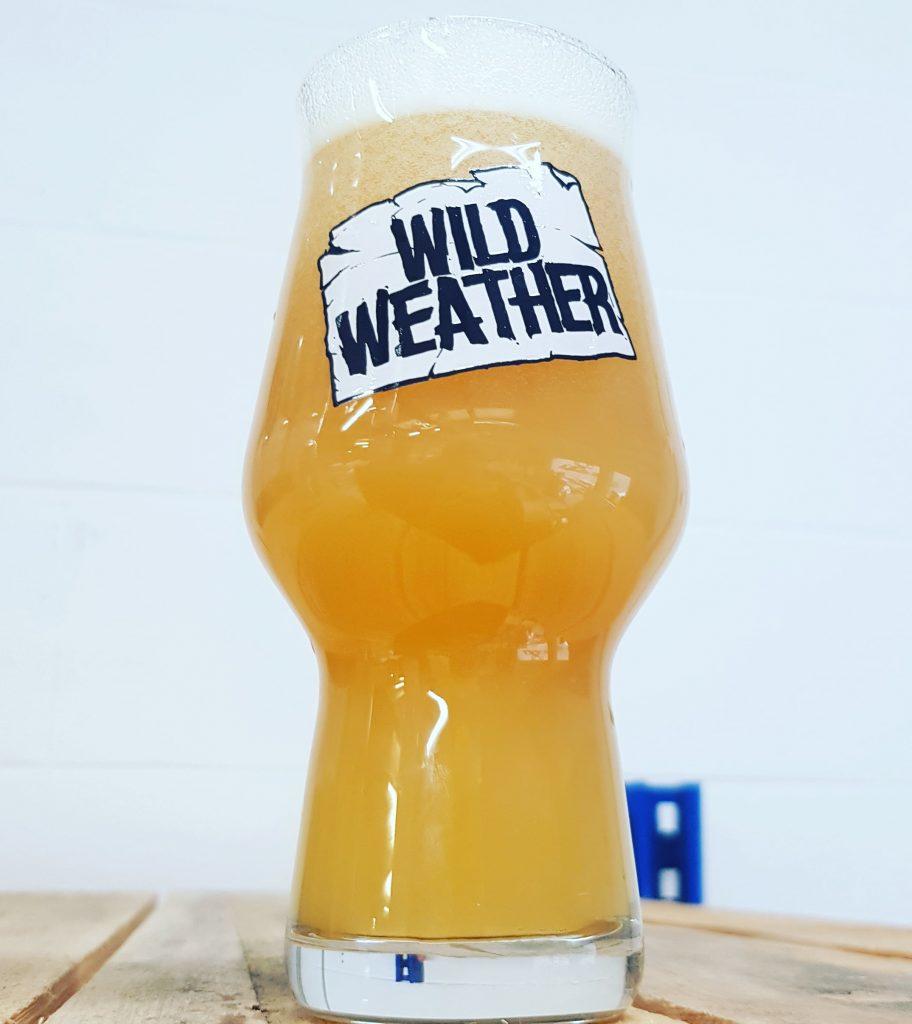 This is where pears come in. We both thought that ordinarily, the subtlety and delicate nuance of pear would get lost and buried in any other style of beer, and admittedly, even in a dry style such as this, there was always a risk that a good deal of the flavour components of pears were fermentable – meaning that as the fermentation progressed, any hint of pear would picked away at by the yeast over time, leaving nothing but a flavourless skeleton and a load of bland pulp.
There was only one thing for it. FILL IT UP. Put as much pear flesh into the beer as it could take. So much pear that a usually clear beer turns to custard. Hit it with so much pear, that not even the might of the saison yeast kingdom could take it down. It felt a little bit like sending an armoured spacecraft through an asteroid belt, hoping the payload of a delicate probe would reach its destination unscathed.
And Houston, we do not have a problem. Although this is being primed and packaged some time after Chris hung up his wellies (which have since been destroyed in a controlled explosion), we're happy to report the pear has made it, in all its abundance and glory, and in quantities far exceeding our expectations. When all is said and done, the final product strikes a knife-edge balance between dry and sweet; the highly attenuated base beer allowing just the right amount of room for the sweeter pear component to fill in the gaps.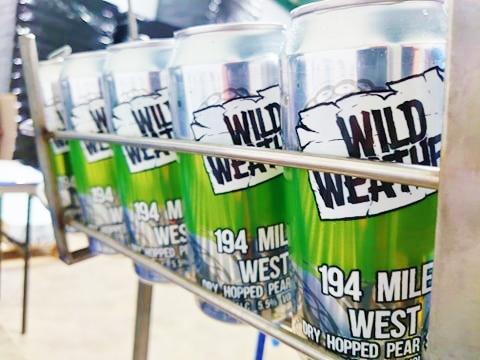 We got in touch with Chris, who is by now, probably skulling pints in an armchair in South West Wales, plotting his own craft beer revolution. He was happy to give his insight into both this beer, his travels, and his journey with Wild Weather that ended in him in moving exactly 194 miles west of Reading.
Q: Notwithstanding 194 Miles West, what has been your favourite beer by Wild Weather over the years? Feel free to pick more than one.
A: Well, a huge part of my enjoyment of Wild Weather was the constant progression in both my own knowledge and the new styles we were putting out. With that in mind, it felt like a huge step to work with Stu McKinlay of Yeastie Boys fame and putting out Wild Boys. I loved that beer and the associated memories, not to mention Stu reading out hate mail he'd received. That being said, I practically embalmed myself in both War Against Reality and Norway To Hell. It will have to be one of these three but I couldn't pick between them.
Q: So, tell us about the inspiration behind your farewell beer. It's not a common style to choose, nor common ingredients. What was your thought process?
A: It took a long time for me to get on board with Saisons as a style and to be honest I feel like the style stagnated in the UK for a long while. During one of the many conversations about beer between JD and I, he mentioned that he'd played with Jasmine flowers in a saison at a home brew level and been really pleased with the results. Eventually this inspired us to brew 'A Complete History' which was purposely fermented a little colder than the accepted 'let it rip' school of thinking with saison yeast. It resulted in this delicate, vinous, refreshing beer and really changed my perception of the style. To round off a long story, I got to thinking that the sweet, fresh taste of pear would fit in to that framework really well and as such, the concept was born.
Q: Do you remember the first time you represented Wild Weather at an event? What about the last?
A: My first event with Wild Weather was at the annual Reading Beer festival and it blew my mind. I couldn't believe I was being paid to talk about and drink beer and to top it off, our Barrel aged Mudslinger won speciality beer of the festival. I subsequently got very drunk on it!
The last time was Brew LDN at the Old Trumans Brewery. It's a huge festival and I got to hang out with some brilliant people I'd met over the years. To give you an idea how it went, I ended up at a hastily found hotel in Barking, East London (huge thanks to my Wife!!!) … I lived in Woodley Reading, which is where I'd planned to get back to.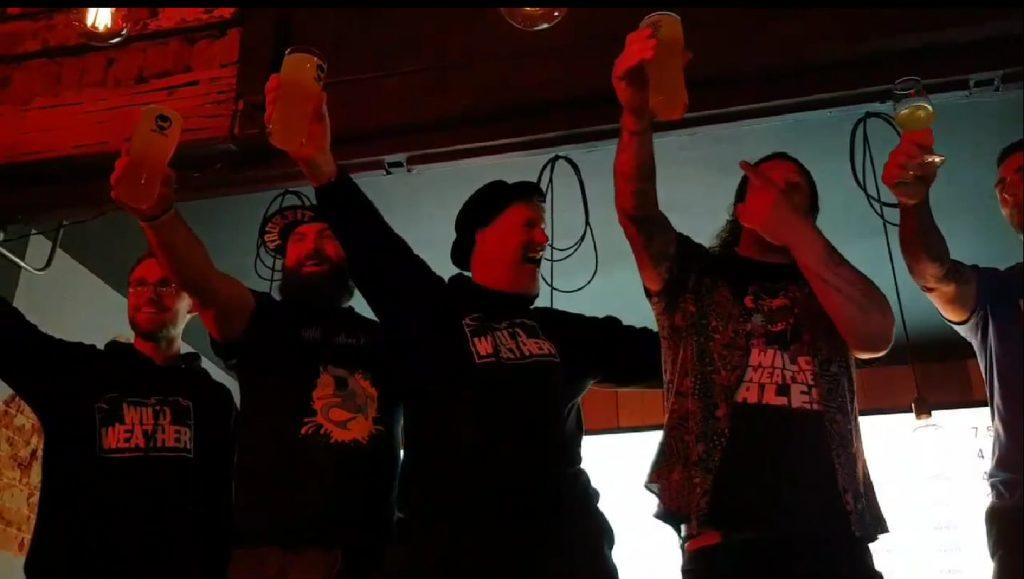 Q: What is the funniest thing you have ever seen at Wild Weather?
A: There are so many things that have reduced me to tears of laughter over the years. I regularly chuckle when I remember Andy punching a bag of shallots while shouting "bloody things!!" after finding out his hour long trip to get them had been an entirely wasted endeavour. Also, watching Iain holding a keg on his back while wearing actual roller-skates , releasing the pressure and expecting some rocketeer moment. He moved about 3 inches and got a lot of beer down the back of his pants. It was glorious!! (see our Facebook for full video).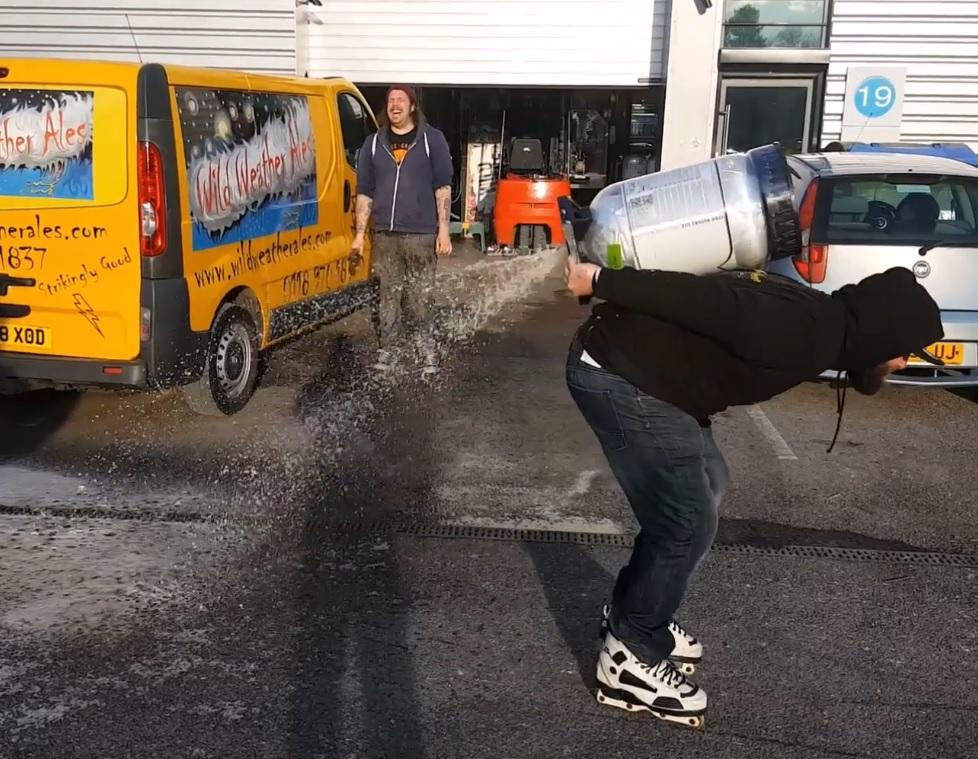 Q: Is there a day at the brewery you wish you could forget?
A: The one that jumps out is our very first in-house canning day. Started at 8am, by the time we figured out how to get up and running it was about 2pm. I think we finished about 10pm and I never wanted to see a green button ever again. It was like purgatory!
Q: What can you reveal about your plans for the future? Will there be beer?
A: Well I can't reveal any specifics just yet as I'm a bit of a believer in the commentators curse. Hopefully I'll be able to say more very soon and it most certainly involves beer!
Q: Felly, pam Cymru? Hefyd, beth wyt ti'n hoffi am dy gartref newydd? Wyt ti'n mynd i ddysgu Cymraeg?
A: Hmm… I think the first bit is why Wales? If so it's because it's the country of my childhood and my wife and I love it dearly here in Pembrokeshire. Not sure on the second part which in turn kind of answers the third part. I'm very slowly trying to learn Welsh among other things. Hopefully once Corona has finally buggered off I'll be able to take classes and make some real progress. Dw'in mynd i ddysgu sharad Cymraeg.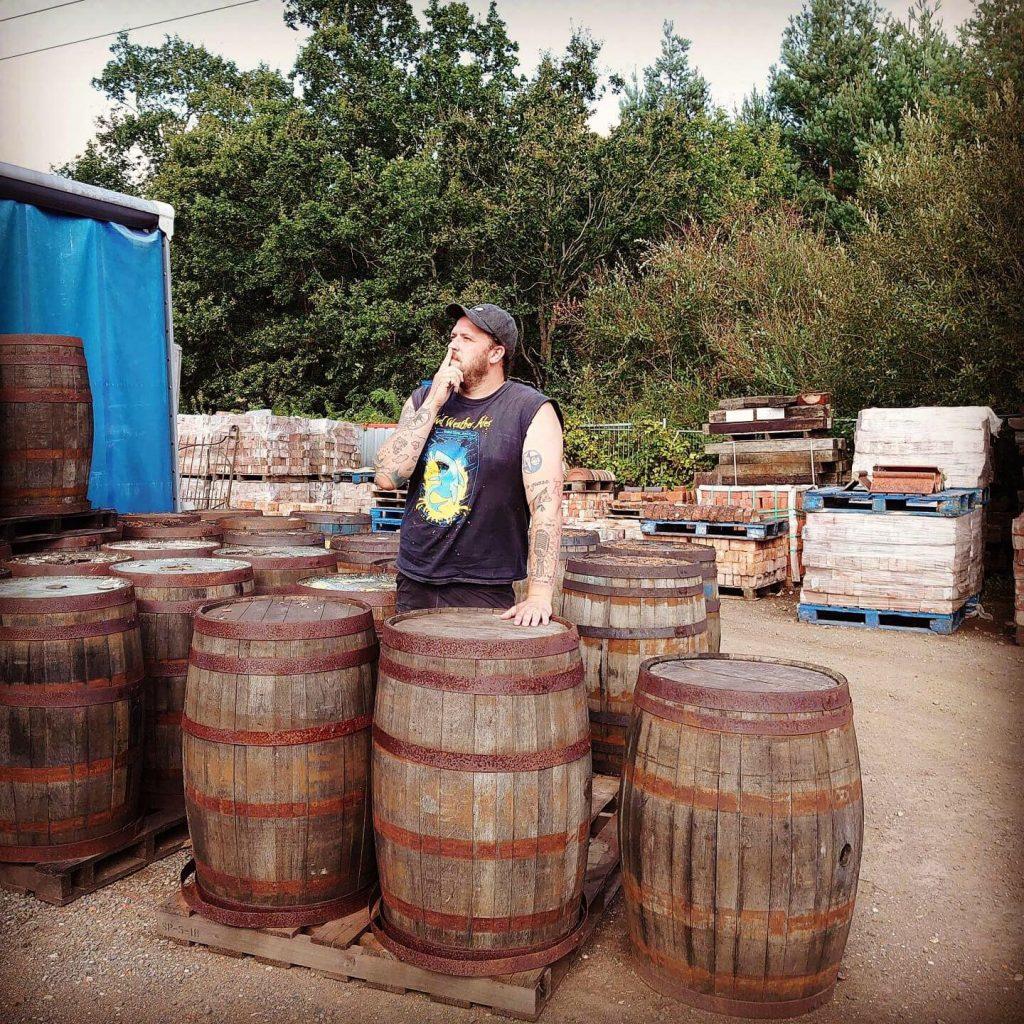 Q: Finally, is there any message you'd like to give to the people of Reading; its publicans, bar staff, drinkers and brewers?
A: A huge thank you!! Whether you've let me drink in your bar, sold me beer in your shop, complimented me or Wild Weather at an event or just simply had a chinwag with me over a beer then you have played a huge part in the last 6.5 years of my life. I can't thank you all enough as the reality is, you've shaped the path I want the rest of my life to take. I can't wait to have beer with you all again.
Lots of love from Wales, Chris X