Let's Dansk, a brightly coloured apricot gose with a fruity, peppery kick, is a marriage of five separate elements – acidity, saltiness, fruit sweetness, tannins and heat. It is no surprise that beers like this make us feel more like chefs than brewers.
This is a collaboration with some of our good friends in Denmark – Vaeskebalancen; a chain of awesome bottle shops with sites in Copenhagen and Aarhus. They were supposed to visit the brewery on the brew day, but sadly the recently implemented quarantine measures for European travellers to the UK meant that the trip was no longer financially viable. In the end, we connected with Nick, manager of Vaeskebalancen, via video link on the brew day.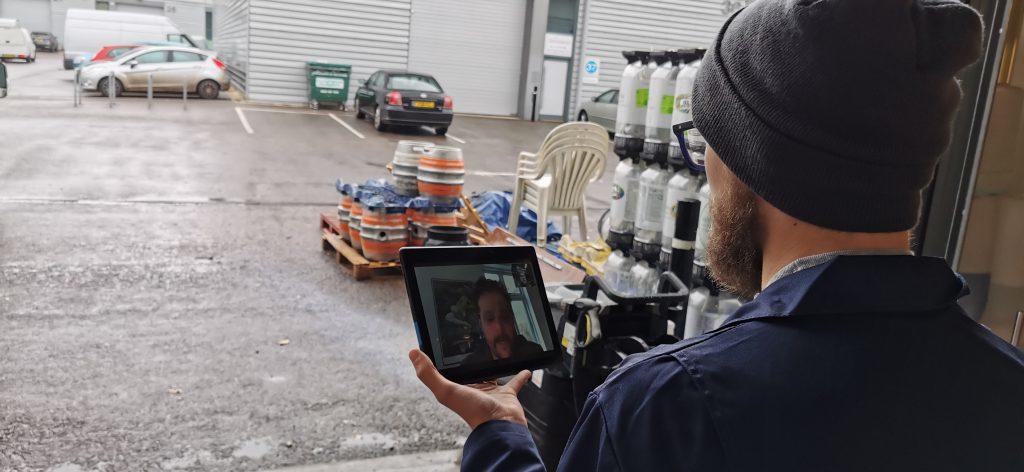 What does Vaeskebalancen mean? In Danish, Vaeske means fluid/ liquid, and balancen means balance (surprise surprise).
Put together, Vaeskebalancen is a Danish biological term that refers to the equilibrium of fluids in the body. This makes it all the more amusing a name for a bottle shop when, as Nick puts it, "we often upset that balance with beer"!
Their logo says it all really. A simple design that, when combined with the name Vaeskebalancen, suggests that to achieve this balance, one should always be adequately topped up with beer. Nick and his team are people after our own hearts!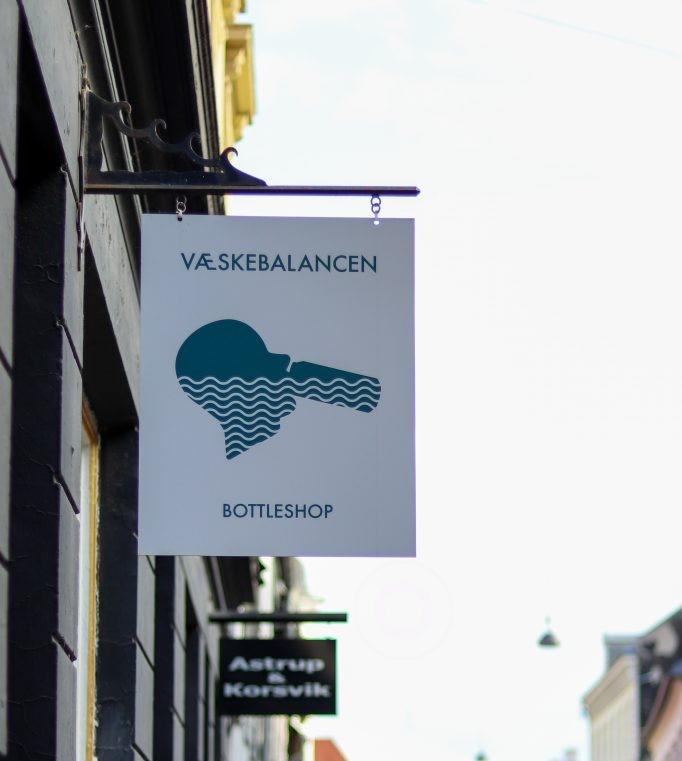 So here's the breakdown of Let's Dansk: 125g/L apricot pureé provides the bulk of the fruit flavour in this beer. It is ripe, sweet and bright orange, but through the fermentation we lose some of this sweetness and it gives way to a drier, more refreshing fruit flavour. We build some of this missing sweetness back with Maltodextrin, (a malt based, unfermentable sugar that behaves similarly to lactose) which has the secondary effect of recovering the poor head retention one might expect with a fruited sour.
We used Himalayan pink salt to add the necessary salinity and minerality to this gose, offsetting both the sourness and sweetness much in the same way as salt does in food. Having a balance of salt and sour makes this style of beer extremely repeatable. We know that apricot is a very soft and sweet profile, so to add bitterness and balance in a more creative way than hopping, we recirculated the finished beer through a torpedo packed with hibiscus flowers, turning the beer colour from a pale yellow to a vibrant, rosy orange in the process.
Finally, Let's Dansk is spiced with an old, aromatic variety of pepper known as 'Longpepper' – a recommendation from Nick. Longpepper (Piper Longum) is related to black pepper (Piper Nigrum), but has more heat and a more intense fruit flavour, much like the differences between your standard red chilli, and something like a habanero.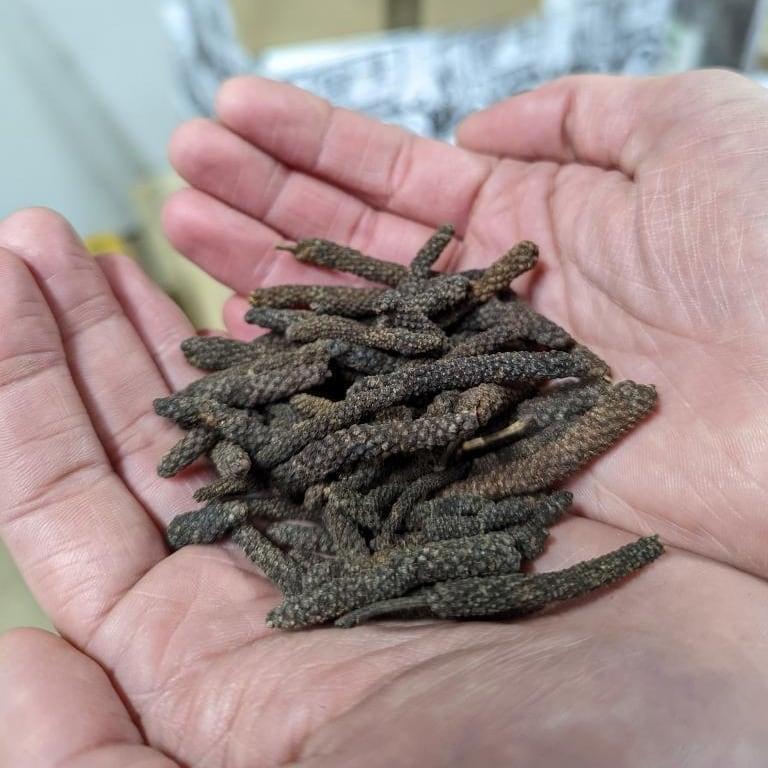 They're funny looking things, resembling tiny, thin, pinecones or catkins, but they grind in the same way as the pepper varieties we are more familiar with. Even so, they bring a unique exotic flavour to Let's Dansk; Longpepper is quite a rarity in Western Cooking but we do still find it in North African spice mixes, and some varieties of Nepalese and Indian pickle sold in the UK.
On their own, they're very hot and overpowering, but used in moderation they bring a zestiness and brightness in flavour that compliments the softer quality of the apricot nicely.
One of the joys of using unfamiliar ingredients for the first time is observing how they play together on the tongue. Pepper may seem like an odd choice of pairing with fruit, but hang in there.
Have you ever heard of adding freshly cracked pepper to strawberries? Or to dark chocolate? These are probably the most well known examples of pairing pepper with something sweet. The pepper serves to neutralise the acidity, bringing out the sweetness and adding the tiniest tinge of heat. Overall, it has the effect of intensifying the flavour of the substrate (in this case, apricot) rather than adding a prominent peppery character to the beer.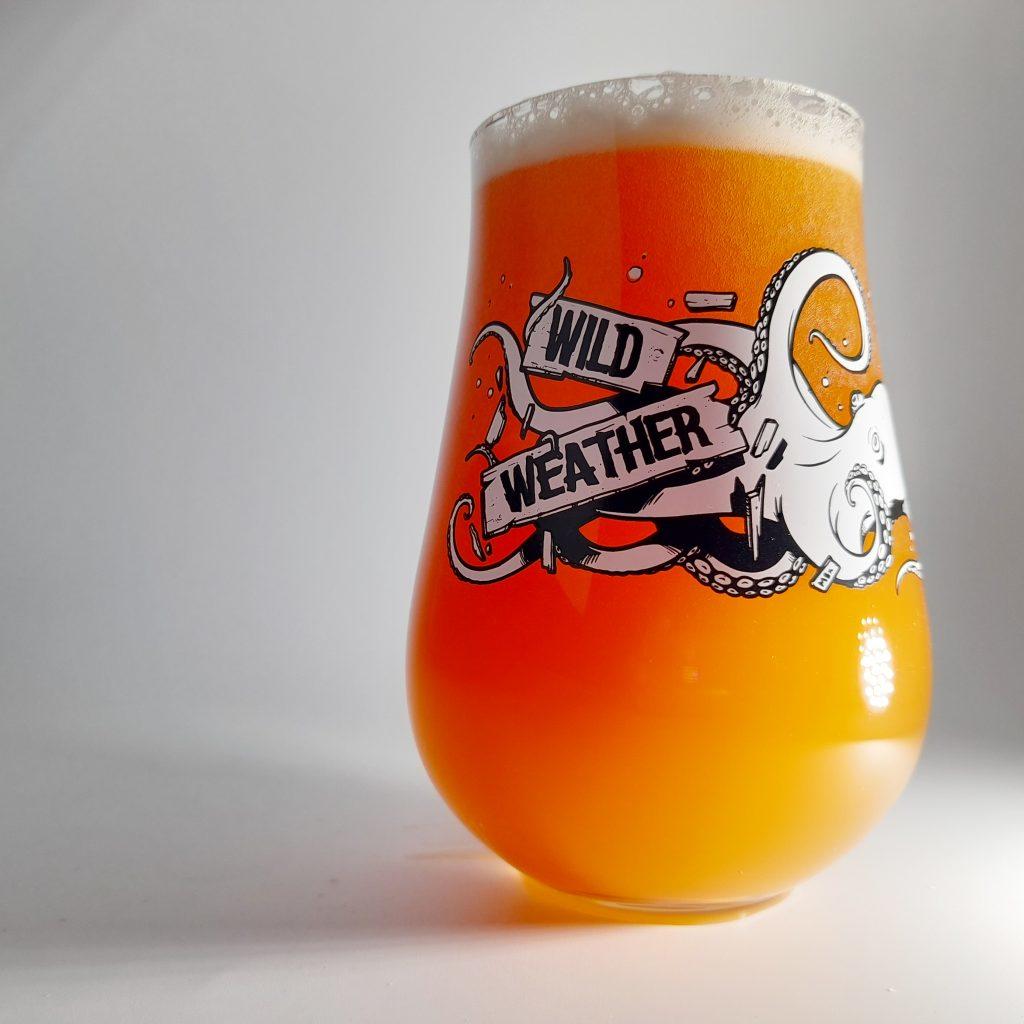 We gathered the brewery team together to taste Let's Dansk as it came off the canning line, and more than one of us said we could taste pink grapefruit, despite that not being an ingredient. It turns out that the fruit flavour of apricot, when slightly acidified and paired with the dryness of hibiscus and lifted with a bit of salt and pepper, replicates pink grapefruit in our brains. It's funny how flavour works, isn't it?
This beer is full of interesting ingredients, each with a part to play in the flavour profile. In a way, achieving balance with all these elements has been a lot of fun, and in a way, is a kind of Vaeskebalancen. Together, we've created a 'fluid balance' unlike anything we've done before, and we love it. Hopefully when the time is right we can take a trip out to Denmark and catch up with Nick and his team in person. For now, we're all staying safe behind closed doors and ringing in the new year with a beer.
Cheers!