Infused with honey, maple and locally roasted single origin coffee, our brand new 6.1% stout is sweet and rich with chocolate tones and a gentle smoky finish. To be honest, with a title like 'Maple Latte', the clue is in the name!
After a few years of regularly brewing Full of Beans (our staple coffee stout), we've begun to wonder what life would be like if we played with our stout offering as much as we do with our sours. Lots of fun ideas have been floating around the brewhouse lately, and so to allow some room in our line up we've decided to put Full of Beans to one side for a while and spend a bit of time developing a whole new host of dark and mysterious specials – the first one to come roaring out of the gate is Maple Latte.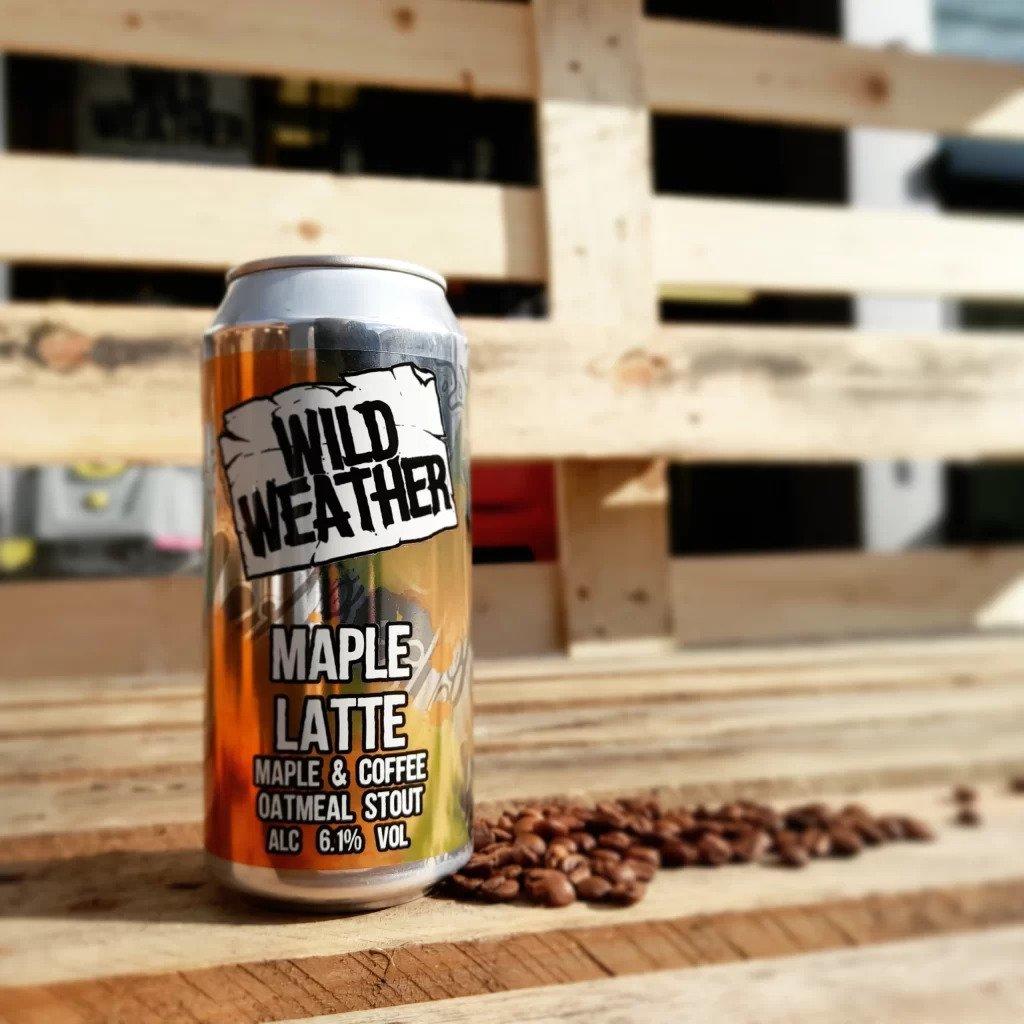 As the name suggests, Maple Latte takes its inspiration from the sweet and syrupy coffees that are available in most modern day coffee shops – a hit of sugar and caffeine to enjoy on the morning commute.
The 'latte' part of the recipe is fairly self explanatory. Replicating the impression of 'frothed milk' was done with a heavy dose of lactose (milksugar) and flaked oats to provide a creamy texture, luxurious head retention and a smooth, full body.
Next is the coffee, sourced once again from our favourite local roaster: Yurtesh at Lincoln Coffee in Twyford. We've worked with this talented fellow on all our coffee beers for the last few years, and the quality of the beans he sources from all over the coffee-growing world are excellent. He goes for direct trade with the grower, proudly showing traceability to an individual lot on an individual farm, and ensures that those involved are given a fair price. You can find Lincoln Coffee on their website, instagram, or pop into one of their cafés in Twyford or Reading.
The variety of flavour and aroma that Yurtesh can conjure from beans of different single origins is so high, that choosing the right bean for Maple Latte that would work with the all the other elements of the beer was more challenging than brewing a straight-up coffee stout. To help us with our decision, he gave us freshly roasted samples of coffee from Kenya, India and Brazil and between us, we experimented with infusing them into small-scale tests on the finished base beer.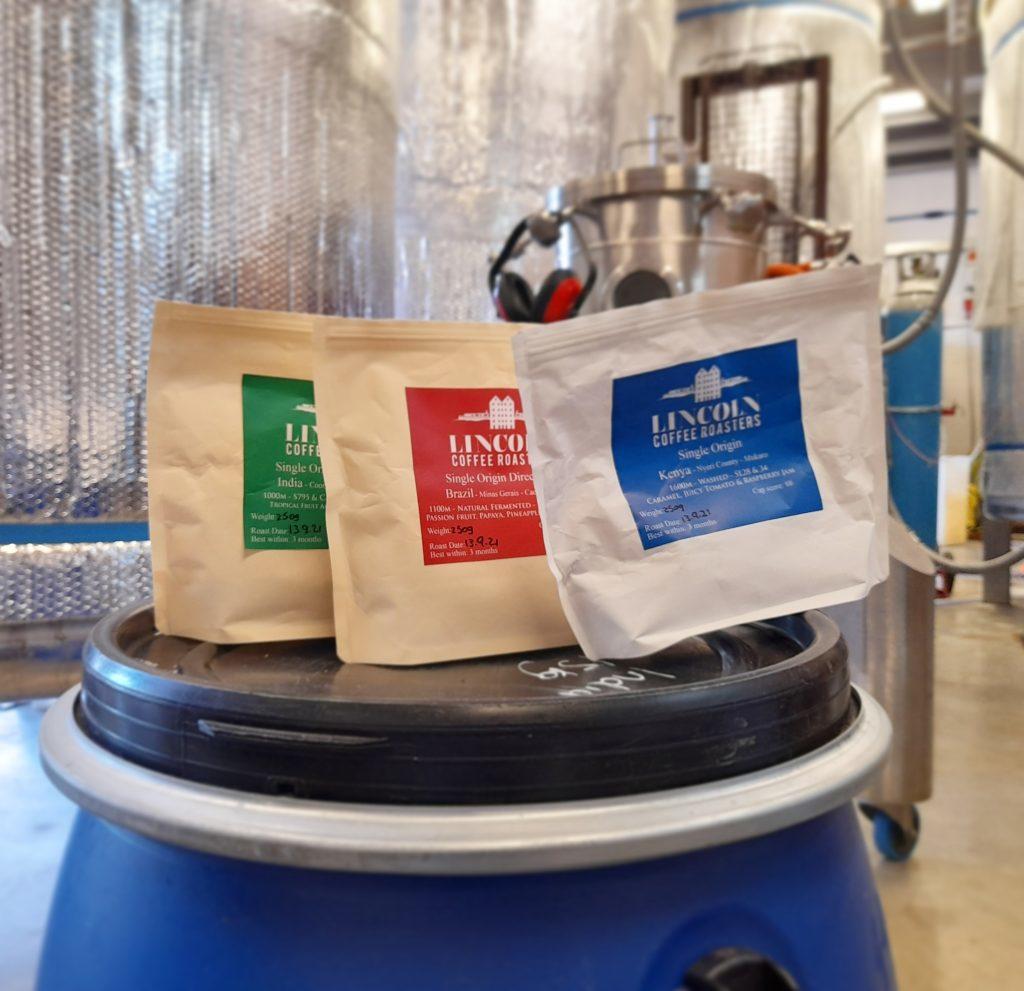 All three of these beans were delicious in their own right. The Brazil was rich and intense, with a nutty quality and a great depth of flavour and some welcome acidity. The coffee from Kenya was totally unique, and although it was our in-house favourite to enjoy as a cup, it didn't actually work as well in the beer owing to it's bright, fruity acidity and a wonderfully bizarre 'ripe tomato vine' note (sounds weird: actually delicious).
We weren't really aware of India as a significant player in the coffee-growing world, but we were not disappointed. This coffee was 'honey sundried', a technique that is a hybrid of the traditional natural and washed processes. The 'honey process' is a method in which the fresh coffee cherries are de-pulped, but allowed to dry without washing. Some of the fruit is still there, but not nearly as much as in the natural process. Most of the cherry is gone, but the remaining golden, sticky mucilage is reminiscent of honey, which is where the process gets it name. Coffees processed in this way tend to be more complex than washed varieties, but not as intensely fruity as natural ones. We found that the gentle, tropical fruit acidity and caramel and chocolate notes in this Indian variety worked really well in Maple Latte.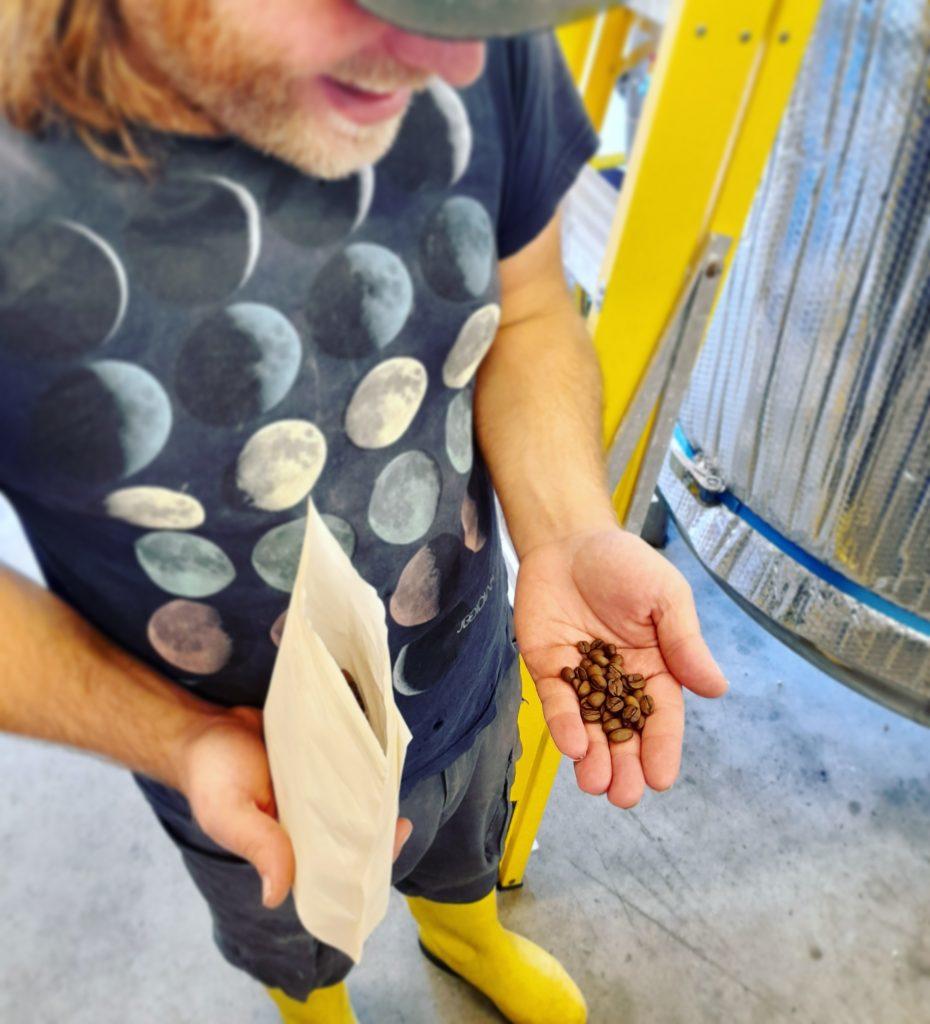 Using our torpedo as a kind of 'external cafetiere system', we filled it with a huge dose of fresh grounds straight from the roastery that day – double the amount that used to go into Full of Beans (not so full now, eh?) – and topped it up with chilled, finished beer. Rather than recirculate, we mirrored the cold press process and left the torpedo and its precious cargo in the chiller overnight – we found through our trials that re-inventing the wheel wasn't necessary with this type of coffee infusion – allowing the grounds to infuse statically and naturally drop out of solution prevented over extraction and got a cleaner, more representative coffee flavour than thrashing it around through a pumped system.
The following morning, this thick, ultra strong shot of cold press (yes, we did drink some… and yes, were rather awake for the rest of the day) was gently pressed back into the main tank under CO2 pressure, infusing our creamy, chocolatey stout base with all the wonderful aromatics of the fresh coffee extracted from the cold process. This is by far the best infusion method we have found so far – who would have thought that conventional coffee brewing techniques actually don't need playing with that much?
Finally, let's talk about maple. It is regrettably a very difficult flavour to capture in beer; it tastes great on the tongue, but vanishes when the yeast sinks its teeth into it. As a simple sugar, it is close to being 100% fermentable and so simply gets broken down as a natural and normal part of the fermentation. It is also eye-wateringly expensive, and although we are by no means afraid of spending big money to get big flavours, one hates to see such a low impact on the final beer for such a high price. Ultimately, we used our contact at Bee Mercy to source some Chestnut Honey – a rich, single varietal honey with a smoky, caramelised tone and a slightly savoury quality that was reminiscent of maple syrup. Importantly, it is more like 65-80% fermentable (this is the good stuff – unprocessed and raw. Store bought, filtered honeys will be closer to 95% fermentable because they are often mixed back with simple sugar syrups).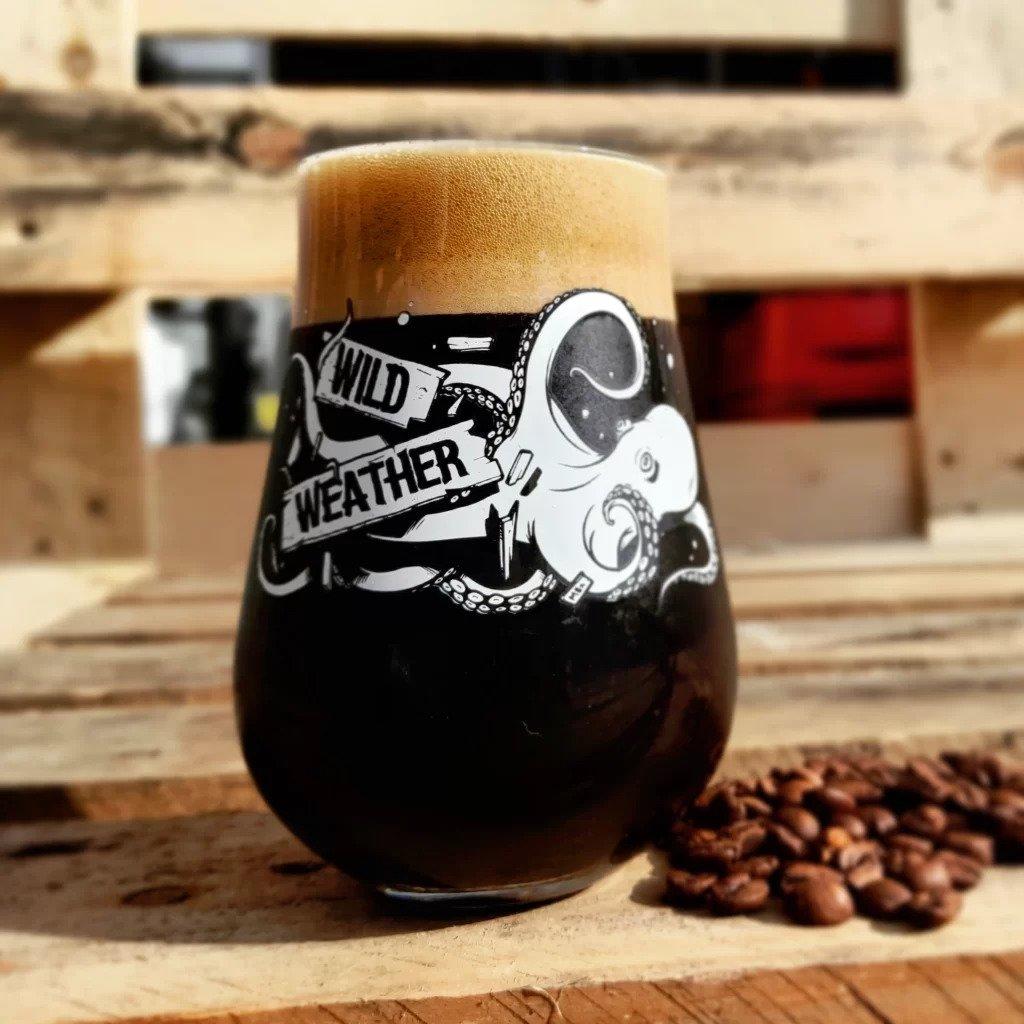 Using a combination of raw chestnut honey and a powerful maple extract (the kind that would make your teeth go black) gave Maple Latte the leg up it needed on the 'maple' front; a natural, woody, smoky and caramel sweetness with an overtone of maple that blended perfectly with the final beer.
In the round, bringing all these elements into focus was challenging, but a fun one at that. We're just limbering up here, and getting started on developing lots of new dark specials in the coming months. There's a more session strength gingerbread milk stout on the horizon (a collaboration with our team at The Weather Station) and a second awakening of our Cephalopod imperial honey stout, all of which should be ready by early December. Stay tuned dark beer lovers! We're comin' for ya!